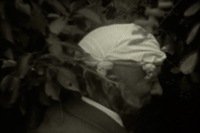 way fare
Sylvia Schedelbauer - 2009, 6:20, DigiBeta/BetaSP, Berlin
A layered tone poem of found images and constructed soundscapes renders a shifting psychogram; a nomadic passage across spaces in and out of time.

Sylvia Schedelbauer's interest in filmmaking is fueled by the need to explore the personal and cultural effects of her half-German and half-Japanese heritage. At the crossroads of disparate cultures, she finds herself continually oscillating between different places of belonging while mediating inter-cultural relationships. Her films negotiate the space between broader historical narratives and personal, psychological realms mainly through poetic manipulations of found and archival footage.
---
Interview
ATA: The viewer of way fare changes positions, by way of the camera, from observing movement to being the agent of motion -- like a narrative subject shifting between 1st, 2nd, and 3rd persons. I'm curious if that was deliberate.
SS: Yes, it was. The underlying concept was to have a protagonist traverse various spaces on different levels: through visual, temporal, aural, psychological, physical and perhaps cultural spaces. It was less important to me to communicate some specific story, i.e. "it's about this person who came from and lives in…" but rather, I wanted to audiovisually translate a simultaneous movement through disparate spaces, e.g. past and present, here and there.
There are different ways to look at this movement; there is a "person" who is seen, who sees, and whose perspective we see. Into this play of perspectives, I included a more remote angle, perhaps a deceased ancestor that one never personally knew, but heard stories of, someone who came from another country, and was of another time.
ATA: The film feels psychogeographic, both personal and impersonal at the same time, and also like it is ongoing, with neither beginning nor end. As the filmmaker, how do you define the film's boundaries?
SS: According to Guy Debord, one of the key figures of the Situtationsists, "Psychogeography is the study of laws and effects of the geographical environment, consciously organized or not, on the emotions and behavior of individuals."
For way fare, I was most interested in the affect itself. While way fare is not about a specific place that I can name (I wouldn't be able to, since I don't know where the various footage was shot), this lead character has certain emotional responses when walking through a field. Different instances in the environment evoke affects in the protagonist. His feelings are visualized by fleeting cameos, moments and gestures, intercut with what could be the environment he is in, but could also be related to his memories. Past and present blur, making it impossible to know what comprises internal visions or "real time," one isn't even sure anymore which of the characters is supposed to be in the "present."
Maybe that's why the film feels somewhat personal; emotions are often considered private, or intimate. However, the film remains impersonal, because there is no way of knowing what the story is--it's abstract in that respect.
There is a beginning and an end. In fact, it sort of is a miniature of a classic structure: there is an opening sequence that describes the ambience of the place, there is a title sequence. After that one sees the protagonist walk through the field, and like a bracket, the man shows up again, in the middle and at the end of the short. Then there are end credits.
ATA: Was much of the footage found, or was it all shot by yourself?
SS: All of the footage used in way fare is "found." About 80 percent of the film consists of amateur footage, and the rest of it is industrial. I bought some of the educational material, and other footage came from "found" travelogues and home movies. I discovered the "theme" of the walking man on a loose core inside a funky old cardboard box in the very basement of ATA: Craig Baldwin's archive. You might know that I've collaborated with Craig for a few years now, and it amazes me that one can always find little surprises that not even he seems aware of. If he heard me say this, he would probably exclaim that he just didn't have the time!
Anyway, the footage varied in age and quality. Some of the colored material was purple or had faded to pink, and even the b/w footage differed in texture and tone. Since I edited it digitally, homogenizing the footage visually wasn't very difficult. I desaturated everything and colored it sepia, to make it look "tinted." In addition to aesthetic reasons, I wanted the material to come together and create some kind of coherent, yet abstract narrative.
---
Interview by Liz Wing of ATA