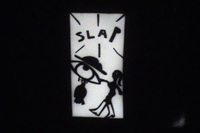 Sexy Noir
Ben Popp & Kenny Reed - 2009, 2:30, 16mm Animation (Video), Portland
A private eye on the case for a man's missing wife finds himself embroiled in something a bit more devious. Shot on Hi-Con and hand processed this film was a joint cross country film made by Ben Popp and Kenny Reed.
Ben Popp lives in Portland OR where he teaches kids animation when enrollment happens and is co-creator/curator of the experimental screening space Grand Detour.
Kenny Reed lives in Chicago IL, leading the charge in ghost hunting parodies, as well as working on commercials.