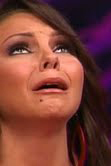 Somewhere Only We Know
Jesse McLean - 2009, 5:00, Video, Chicago
What can a face reveal? Balanced between composure and collapse, individuals anxiously await their fate.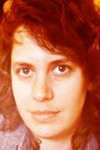 Jesse McLean grew up in Pennsylvania, studied art at Oberlin College and received her MFA in Moving Image from University of Illinois at Chicago. She has shown her work most recently at the Venice Film Festival, Conversations at the Edge at the Gene Siskel Theater in Chicago, San Francisco International Film Festival, Yerba Buena Center for the Arts, threewalls, Migrating Forms at Anthology Film Archives, Art Chicago, Onion City Film Festival and the Chicago Underground Film Festival. She lives and works in Chicago, IL.
---
Interview
ATA: Would you tell us what reality shows are featured in Somewhere Only We Know?
JM: There's too many to name! But Project Runway is in there.
ATA: Were you looking for anything in particular in contestant's faces when you composed the video?
JM: Once I started to edit the clips, I decided to arrange them by state of emotional distress, but I wasn't looking for anything in particular, just working with what I had.
ATA: The earthquake comes across as a kind of opportunity for both the television personalities and yourself as a filmmaker. How did you intend it to be perceived?
JM: I intended it to function as a puncture or a disruption of reality television by reality.
---
Interview by Liz Wing of ATA