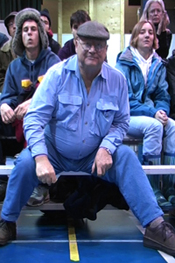 Wrestling With My Father
Charles Fairbanks - 2010, 4:00, Video, Lexington, NE
My father was a wrestler before me. You never stop being a wrestler.
A review from the Montreal Mirror reports, "Remarkable in just how much you can achieve in a short time and on the lowest of budgets, Wrestling with my Father simply depicts Fairbanks' dad in the audience of a wrestling match (apparently with the filmmaker as one of the wrestlers). Within this extraordinarily simple set-up are whole worlds of humour, pathos and intrigue."

Charles Fairbanks is a wrestler and filmmaker. His recent work focuses on pro wrestling in Mexico, where the artist fought as the One-Eyed Cat with a camera built into his mask. Fairbanks grew up in rural Nebraska until a wrestling scholarship took him to Stanford, where he studied Art and the History of Science. In 2010 he received his MFA from the University of Michigan, was selected by Werner Herzog to take part in the first Rogue Film School, and was awarded a Flaherty Seminar Fellowship. He is currently working on his first feature.