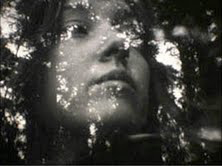 Union
Paul Clipson - 2010, 15:00, S8mm (16mm), color/b&w, San Francisco
Sound by Jefre Cantu-Ledesma
With Anya Kamenskaya
An exploration of movement, woven into layers of time, and photographed in natural and nocturnal urban spaces, ambiguous within a confluence of lights, colors and darkness.
Paul Clipson works primarily in film, video and on paper, collaborating on films, live performances and installations with sound artists and musicians, projecting largely improvised in-camera edited experimental films employing multiple exposures, dissolves and macro imagery that bring to light subconscious preoccupations and unexpected visual forms.
---
Interview
ATA: You've shown your work in a variety of different spaces, from straightforward screenings in theaters to, more recently, the inside of Michael Ramage's double-vaulted masonry dome at YBCA. Do any spaces appeal to you in particular, and what are some of the challenges of working in unusual places?
PC: The space in particular is less important than the chance atmosphere that's potentially created in any number of different places by a combination of an audience, a live music/sound performance and a film projection. Some really intense, memorable shows have occurred in unlikely or unusual spaces, for example, on top of a hill in Ukiah, one evening in May of this year during a performance with Joshua Churchill, a full moon slowly rose up behind the bed sheet that I'd hung between two trees to project my film onto! We couldn't have planned for this and it couldn't have been more dramatic! The biggest challenge for me with a space is in dealing with ambient light, as Super 8mm has a very delicate look. Otherwise, the character of each space, whether it be a bar, a museum or under the stars, is a beneficial aspect that always adds to the experience of the performance in its own way.
ATA: *Union* features a woman interacting with the natural world. Do you often work with actors in your films?
PC: Up until the fall of 2009, I'd almost never shot with actors in my films. Here and there, an eye or lips would appear for a moment (in WITHIN MIRRORS) or a profile (in SPHINX ON THE SEINE) would drift in and out of a span of water. At a certain point of investigating space in these films, I wanted to gain the sense of gravity and weight that a figure in a natural or urban landscape would bring to a composition or sequence. Along with this potential gravity, being able to superimpose multiple figures lost within a forest or city seemed very exciting- overlaying several perspectives or movements would create a series of parallel but intertwined figures dancing with themselves through space.
ATA: You're currently on a tour of Europe with your work. What have some of the highlights been?
PC: The entire trip was a blast! The highlights were the amazing people I got to meet and work with who programmed and and put on these shows: among many others, Emmanuel Lefrant at Light Cone in Paris, Peter van Hoof at the Dutch Film Museum in Amsterdam, Martha Jurksaitis of Cherry Kino in Leeds, Christophe Guerin at Elu par cette Crapule in Le Havre, and Stoffel Debuysere, Maria Palacios and Xavier Garcia-Bardon at Le Bozar in Brussels. These are great people and great places to visit to see film!
ATA: What should I have asked you? What do you like about ATA?
PC: I'm very inspired by Artist's Television Access, particularity by everyone who works there, because ATA seems to be a premiere example of a community space that's shared within (with Craig Baldwin and Other Cinema) and without (with the Mission neighborhood and surrounding Bay Area) and in which almost any sort of film, video or performance that one could imagine, might be seen. I'm always encouraged to "work without a net" when making films to screen at performances there, because the spirit of what ATA is providing the community is something that's alive and happening at the moment and it allows one's work to be truly spontaneous.
---
Interview by Liz Wing of ATA