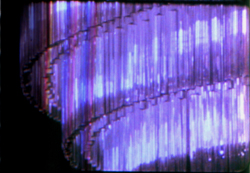 All That Sheltering Emptiness
Gina Carducci & Mattilda Bernstein Sycamore, Sycamore in person - 2010, 7:00, 16mm, Brooklyn & SF
All That Sheltering Emptiness is a meditation on elevators, hotel lobbies, hundred dollar bills, the bathroom, a cab, chandeliers, cocktails, the receptionist, arousal, and other routines in the life of a New York City callboy.
Gorgeously hand-processed in full 16mm glory, this film is a collaboration between Gina Carducci (Stone Welcome Mat) and Mattilda Bernstein Sycamore (author of So Many Ways to Sleep Badly; editor of That's Revolting! Queer Strategies for Resisting Assimilation). All That Sheltering Emptiness explodes the typical narratives of desire, escape and intimacy to evoke something more honest.
Mattilda Bernstein Sycamore is the author of two novels, So Many Ways to Sleep Badly and Pulling Taffy, and the editor of four nonfiction anthologies, including Nobody Passes: Rejecting the Rules of Gender and Conformity and That's Revolting! Queer Strategies for Resisting Assimilation. Mattilda recently created Lostmissing, a public art project about the friend who will always be there, no matter what, and what happens when you lose that relationship. She also just finished a new anthology, Why Are Faggots So Afraid of Faggots?, a question she knows everyone is asking.
www.mattildabernsteinsycamore.com
Gina Carducci is a contact printer by day and a filmmaker by night. That leaves no time for sleeping but lots of time for filmmaking. Gina's first film Stone Welcome Mat premiered at the Venice Film Festival in 2003. Generations, a collaboration with Barbara Hammer, premiered at MoMA in September. As always, all shot on the Bolex, hand-processed in the kitchen, edited on the flatbed. Film is not dead.