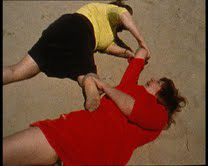 Oh, How Sad (O Quam Tristis)
Maite Abella - 2009, 8:48, Betacam SP, The Netherlands
Mother and sister slowly wrestle on a beach, an analogy for their real-life conflicts.
Maite Abella lives and works in The Netherlands since 1995. Born in Lleida (Spain) in 1966, Maite Abella attended Gerrit Rietveld Academy in Amsterdam, where she received a Bachelor of Fine Arts Degree in Painting. She also attended Universitat de Belles Arts in Barcelona (Spain). She has a Bachelor of Arts Degree in Geography from the Universitat de Barcelona (Spain). In 2001 she was nominated for the Buning Brongers Award for painting and in 2003 she got The Starters stipend Dutch National Fundation for the Arts (The Netherlands).

She has exhibited her paintings since 1999 regularly in The Netherlands. Since 2000 Abella makes short films and also she has developed site-speficic projects in the public space.
---
Interview
ATA: Music plays an important role in this film. Can you tell us why you chose these particular songs? And who is in the "Lovefool" chorus at the end?
MA: The first song, "Tu, no m'has estimat mai" (you've never loved me), was improvised by my older sister while I was filming her through Skype. The second song was taken from Stabat Mater by Pergolesi. Stabat Mater is a Thirteenth century Roman Catholic sequence (poem). Its title is an abbreviation of the first line, Stabat mater dolorosa ("The sorrowful mother Stood"). The hymn meditates on the Suffering of Mary, Jesus Christ's mother, during His crucifixion. The title of my film O quam tristis (in ancient Latin) has been taken from the same poem:
O quam tristis et Afflicted
benedicta fuit illa,
Unigeniti mater!
O how sad and sore distressed
That WAS Mother, highly blest,
of the sole-begotten One
The last piece was sung by a choir of Spanish women living in Amsterdam ( I am a component of them, but not for the film). I asked them to sing this song for my short film because I wanted to finish with a light tone.
ATA: What was it like to work with your mother and sister?
MA: When I asked my mother if she wanted to act in my film, I thought her answer would be a resounding NO, but instead, her response was a huge laugh as she said: yes, yes.
Actually, now that my mother is 81 years old, she is more relaxed than ever, and not afraid of her image or her neighbors.
We really enjoyed the shooting. It was strange but we laughed a lot during filming.
---
Interview by Liz Wing of ATA