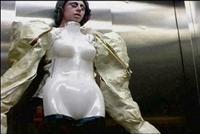 Todo Disfraz Esta Hecho de Recuerdos (All Disguise Is Done Of Memories)
Manuel Olias - 2007, 8 min, Video, Spain
Originally,"Memory and more" was a performance by Mariló Galache in "La Casa Encendida", part of the presentation of works from the workshop "Memory and Landscape of Trash" directed by Daniel Canigar, from the Basurama collective, during the month of December 2006.
"All disguise is done of memories" is the strange trip of the doubled character of Mariló Galache herself. A death angel, revolutionary heroine-isolated individual. The uncertain transition to a place through a guideline of suspense. An abatract narration that suggests the elevation or the fall is the axis of the video. Video by Manuel Olias of the live performance of Mariló Galache
Manuel Olias lives and works in Madrid, Spain. He has exhibited throughout Spain since 1993.
Since 2002 he has participated in the online projects "ArtContext" and "WarTime, reflections on and reactions against wars by digital and network artists".