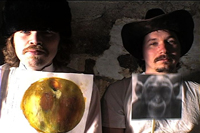 To Watch After The White House Press Briefing, Or With The Apathetic
Mack McFarland – 2007, 1:22 min, DV, Portland, OR
To Watch After The White House Press Briefing, Or With The Apathetic comes from a larger project called "Kinetoscopes for the 21st century_kinetocas.com." This project includes an interface with the audience called non-click-interaction (NCI). With NCI the viewer is asked to work with an object, timeframe, action, state, or idea that is outside of the screen or separate from the computer; to bridge the partition between the physical and the signal. These NCI videos hope to bring about a re-embodiment of the self, through the inclusion of the physical into video – provided by the viewer, through the suggestion of the author, resulting in the poetic "physical-mash-up." These three "kinetocasts" are also a part of a sub-series in which the physicality's of the camera lens are used as a medium as well.
Mack McFarland is an interdisciplinary artist who splits his time between his home in Portland, Oregon and the 11th dimension. McFarland has worked in many mediums, with a focus on video and drawing. His practice is influenced by his perception of the trilateralness of art: the aesthetic, the cognitive, and the critical. McFarland's projects invite the viewer to seek an experience that lay in potential intersections. His explorations into 21st century existence are peppered with the multi-sensory, humor, data mining, collaboration, mysticism, history, performance, and repetition.
McFarland has exhibited work nationally and internationally. He created a new work for the Portland Institute for Contemporary Arts' Time-Based Art Festival 06, and recently finished a three-month long project for the Northwest Biennial at the Tacoma art Museum, which Sheila Farr of the Seattle Times called "startling, nutty and technologically relevant." McFarland was awarded the William H. Givler Thesis Award in Fine Arts and the Charles Voorhies Drawing Competition, both while attending Pacific Northwest College of Art in Portland, OR. His future projects include a solo exhibit at the Portland Art Center in the fall of 2007.