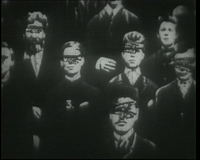 The Severe Illness of Men
Aleinikov Brothers, 1987, 10 min, format, Moscow, Russia
Cinema collage, dedicated to the subject of ideological pressing. The movie ends by a severe metaphor: a scene of homosexual rape in a metro car.
Igor Aleinikov, born in 1962, graduated from the Moscow Engineering Physics Institute (MEPhI)
Gleb Aleinikov, born in 1966, graduated from the Moscow Engineering Construction Institute.
In the 80s Aleinikov brothers belonged to school of Moscow conceptualism and took active part in art underground activities, they worked in such genres as mailart, bookart, socart, homeart. Brothers Aleinikov made it into history as founders of "parallel cinema": experimental underground movies shot on narrow film, such as "Tractors" (1987), "I'm frigid, but it doesn't matter" (1987), "The severe Illness of Men" (1987), "Postpolitical Cinema" (1988), aesthetics and ideology of which were absolutely incompatible with the canons common for soviet cinema.
Aleinikov brothers started working in official cinema in the late 80-ies by shooting a short film "Someone has been here" (1989) and a full-length film "Tractor Drivers 2" (1992).
In March 1994 Igor Aleinikov died in a plane accident. A year after Gleb Aleinikov founded the CINE FANTOM Club.