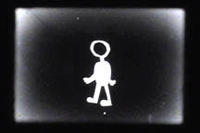 Diatribe
Ben Popp (in person) - 2009, 2:07, 16mm, Portland, OR
An animated diatribe about post-modernism shot on Hi-Con 16mm film and hand-processed.
Ben Popp lives in Portland OR where he makes animations in his basement.
Questions with Ben Popp by Liz Wing
Liz Wing: 16mm animation has a really fun, expressive feel to it.
Ben Popp: I could do it on my own, sort of like doodling, but making your doodles come to life via film and on top of that developing them in the bathroom so that the world becomes complete all in its own setting really enamored me. I've found a way I can write, draw, photograph and sculpt all on a level of ease, I've found a voice I'm extremely comfortable with.
LW: What prompted you to break down the existential themes laid
BP: I had an existential crisis about shooting on film and this was the only way I could work through it.
LW: How long does it take to do the cutouts? Do you have any help in the process?
BP:I have tons and tons of cut out letters all from previous titles and mattes and I realized I could simply "write" with them. For characters I'll quickly sketch out a whole or piece of them and exacto it out. I enjoy mixing and matching character pieces as well, it adds to the simplicity of working with what you have and gives an extra creative stretch in terms of what becomes what out of what. As for help I tend to anthropomorphize my bolex or exacto, so yeah I have help!
*extra stuff about film*
This film really did come about one morning when I felt an urge to react to my emotions or simply let them carry me away somewhere I didn't want to go. So the film really does begin in a stream of conscious manner, i.e. when I say I'm scared and not sure where to begin, I really was scared and didn't know where to begin, but I just let it all go and the film began to speak for itself.