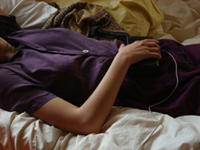 My Tears Are Dry
Laida Lertxundi - 2009, 4:10, 16mm, Spain/USA
A film in the three parts of a dialectic. Hoagy Land's song is played and interrupted as guitar makes sound, two women, a bed an armchair, and the beautiful outside. After Bruce Baillie's All My Life. The lyrics of the song, reference the eternal sunshine of California and its promises.
Laida Lertxundi b.1981. is from Bilbao Spain. She makes experimental films and curates film and video art screenings for Xcéntric programming series at Centre de Cultura Contemporanea de Barcelona, since 2002. She has curated independently at California Institue of the Arts, Museum of Fine Arts Bilbao-ZineBi and currently teaches at UCSD Visual Arts Program. Her writing has appeared publications by CCCB and Documenta, Madrid. Her work explores the terrain of diegetic space, by creating a particular sound and image syntax. She is interested in the histories of experimental film, the possibility of a feminine language and the blurring of art and life. Her films create moments of "down time" of a time in between events. Much is left beyond the frame and only gestures and moments are captured in these non-stories with non-actors. It has appeared among other places at MoMa (NY), LACMA (Los Angeles), RedCat (Los Angeles), National Gallery of Ireland, and New York Film Festival, Views of the Avant-Garde.
Questions with Laida Lertxundi by Liz Wing
Liz Wing: The film feels like poem expressing emotions more than plot or idea. Is there a story behind what we are able to see that you can tell us about?
Laida Lertxundi: This film, like the rest of my film work is a lot about being with people, and being in a particular place, there is no story behind that is hidden. It is a dialogue between sound and image and there is a certain feminine presence, a feeling. The song produces intense emotions, but I wouldn´t say the film is about emotions as opposed to ideas, I would like to erase that distinction. The film is playing with diegetic space with relays on a sound and image synch, it is referencing an emblematic film, it is document of a moment in Los Angeles...
LW: How long did it take to complete?
LL: About a year
LW: What inspired you to use the titular Hoagy Land song?
LL: I felt this song carried a feeling, a mode of being that I wanted the film to create. It is also because the film is inspired by All My Life by Bruce Baillie which is made with an Ella Fitzgerald song by the same title. That film had a tremendous impact on me when I moved to the US and started college and saw it in a class. The capacity of that film to make you feel plenitud really moved me. I also associated it with California very much. Many years later living in Los Angeles, I decided to use My Tears Are Dry, by Hoagy Lands in a similar way. Although I think the film is very different from All My Life, and it is doing different things.