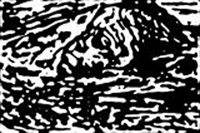 So Much Water So Close to Home
Matthew Kluber - 2008, 2:20, DV, USA
This short film presents an environment reduced to contrasting light and dark shapes. Animated in this dematerialized world is a small figure surrounded by water. The stark contrast renders a flat, yet engaging pictorial space - much like a sequence of black-and-white relief prints set in motion.
Matthew Kluber holds a master of fine arts degree from the University of Iowa and a bachelor of fine arts degree from the Rhode Island School of Design.
Kluber has shown his paintings/ projections, short films and drawings at galleries and museums including: FOCUS09/Art Basel, Switzerland; Casoria Contemporary Art Museum, Italy; The Micro Museum, Brooklyn; 123 Watts Gallery, New York; Klein Art Works, Chicago; Rudolph Poissant Gallery, Houston; the Portland Museum of Art in Oregon; the Austin Museum of Art, Texas; the Bemis Center for Contemporary Art and Joslyn Art Museum in Omaha; the Des Moines Art Center as well as the University of Iowa Museum of Art.