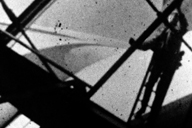 The Acrobat
Chris Kennedy - 2007, 6:00, 16mm, Canada/USA
Inspired in part by a poem by Toronto poet Ryan Kamstra, "the acrobat" is a consideration of the relationship of gravity and politics - the beauty and necessity of rising up, but also, perhaps, the significance of allowing oneself to fall. If the force of gravity is in relation to both mass and proximity, how does the force of politics resonate across space and time?
Chris Kennedy is an independent filmmaker, programmer and writer currently living in Toronto. He programmed film, video and live performance for the Images Festival from 2003-06 and served on the screening collective for Pleasure Dome from 2000-06. His short experimental films have screened at over fifty film festivals worldwide and he has presented film programs in Egypt, Belgium, Germany, the US and Canada. He holds an MFA from the San Francisco Art Institute, where he was co-founder and host of a weekly film salon.
Questions with Chris Kennedy by Liz Wing
Liz Wing: Can you tell us about your relationship to Ryan Kamstra, the Toronto poet you collaborated with?
Chris Kennedy: I've known Ryan Kamstra for about 10 years and have followed his poetry and music for almost as long (he has a band called Tomboyfriend that's worth checking out). When I was working on this film, I was searching for some words to play off the images and Ryan's poem called the acrobat came to mind. It's from a book of poetry of his called the late capitalist sublime that beautifully articulated the century's turn. I felt his words were directly related to the feel of the images and so took a couple stanzas to bracket the piece with, as a basically a jumping off point from which the images could take flight.
LW: Can you also tell us more about the process you use to collect and manipulate footage into a film?
CK: Both reels of footage I bought years ago in Toronto (from John Kneller, who makes pretty intense optically printed collage films). I brought them with me to San Francisco and discovered one of them was film footage from San Francisco's longshoreman's strike of 1934. A nice coincidence that was hard to pass up. The footage from the second section was from a documentary on the building of the Sydney Opera House. I felt the footage resonated with each other—the idea of tearing down and building up, uprising/raising up. In terms of manipulation, I tried to get into the image to graphically abstract it so it becomes something other than what the original image is—perhaps renewing it so it can carry new weight on its frame.
LW: What's the song playing through part of the piece, and why did you choose it?
CK: The song is a Brazilian Tropicalia song. I chose it because the Tropicalia movement was intensely political, but had to be subversive about it in order to exist during a dictatorial time period in Brazil's history. The song is, on the surface, a romantic love song, but there are hints to something more (the avenue the lovers walk down is named after a dictatorial president, the snippet of a revolutionary song that plays during the chorus). It was a protest song that was hard to decipher, and so flew by the censors of the time.