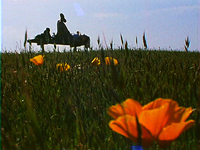 Afternoon Dream
Jim Granato - 2009, 4:00, super8, San Francisco, CA, US
Afternoon Dream (2009) is Granato's most recent short that comes from a series of films which take on solitude, landscapes, and the passing of time with more of an experimental and minimalist approach.
Jim Granato is a self-taught filmmaker and a native of Bloomington, Indiana. He has directed and produced short films and music videos in the Bay Area since 1996. His most recent short documentary film, Vivid Dreams (2008), screened many film festivals worldwide including 2008's ATA Film and Video Festival.
As a cinematographer and sound recordist Jim Granato has been involved with several independent feature film productions such as past festival favorites Stuck (2003), Mango Kiss (2004), and Revolution Summer (2007). In addition, he's worked on award-winning documentary features including Taggart Siegel's The Real Dirt on Farmer John (2005), Michael Jacobs' Audience of One (2007) and Dori Berinstein's Some Assembly Required (2008).
D Tour (2009), his first feature film as director and producer, has won several awards including the Golden Gate Award for Bay Area Feature Documentary from the 52nd San Francisco International Film Festival. D Tour will premiere nationwide on the PBS Emmy Award winning program Independent Lens in November 2009.