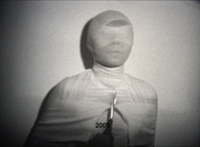 Numbers
Yin-Ling Chen - 2007, 3:08, super 8, London, UK
Numbers is an experimental short film that the artist did in February 2007. She filmed with a super 8 camera to the protagonist that was wrapped by either cling film or bandage. Years ago she saw in a photo a Jew had a number tattooed on his arm. It was his ID number in a German concentration camp. She contemplated: what are the numbers that are important or unforgettable to her? In this film, she wrapped herself with cling film and bandage, and tried to release herself from them; at the same time she kept reciting a series of numbers. Some of them are dates on which certain disastrous events occurred to her family and that affected her, some even changed her life.
She used cling film and bandage to depict the different effects those events had on her at different time points, how they made her feel asphyxiated, and how desiring she was to be set free from those memories. By keeping reciting numbers while struggling her way out with no explanation, she wants to strike the viewers and make them think about what numbers are to them more than just numbers.
This film is a personal approach to self-liberation. Performance is central to most of her films during the last 2 years, the presence of the figure being conveyed as much as her images as her body used. Filming herself in most of her recent work, her oeuvre emphasized performance as a generative process where self is in a state of becoming, a process of self-review.
Yin-Ling Chen, born 1969 in Taiwan is an artist based in London, mainly working with video and film. She has completed an MFA in Fine Art at the Slade School of Fine Art in London. She has shown her work internationally including at the AURORA 08 in Norwich, The Regional Museum Stalowa Wola in Poland, Hysteria: A Festival of Women, Toronto in Canada, Sidewalk Cinema in Wien, Austria.
Most of her work focuses on figure. She uses different media to portraiture and tries to create her art with authenticity. In a broader sense, portraiture embodies issues such as human emotion, human identity, dilemma, struggling, and life and death will remain one of her central themes. A mirror that reflects her feelings, art is a medium as well as a process of dialogue between her inner self and the external world, social and private spheres.