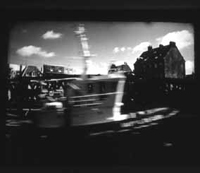 3x1
Telemach Wiesinger, 2007/2008, 16mm, 10', Germany
3x1 shows three different views on one single swing bridge. It could be seen as a series out of Telemach Wiesinger`s past experimental film, titled "LANDED". Composer Tobias Schwab adds the soundtrack to this art film with three episodes.
Telemach Wiesinger was born 1968 in Bielefeld/Germany. Studied Visual Communication at HbK Kassel/Germany, Diplom 1994. As photographer he is working for many art books and Solo-exhibitions: Contemporary Art Center Athens, Centre d'Art contemporain Nîmes, Kunstpalast Lemberg, Takashimaya Matsuyama, Smokebrush Gallery Colorado Springs, Museum für Moderne Kunst Rupertinum Salzburg or Eté Photographique de Lectoure.
As filmmaker his experimental films are shown on numerous festivals and solo programs: International Film Festival Rotterdam, European Media Art Festival, Black Maria Festival, Festival de Cine Experimental Quito, Filmfestival Seoul Korea, Edinburgh International Film Festival, Media City Windsor, Spanische Botschaft Tokio, Lausanne Underground Film Festival, Image Festival Toronto, Directors Lounge Berlin, TIE The International of Experimental Exhibition Denver, Media Art Festival Friesland, Stuttgarter Filmwinter and many others.
With Andreas Gogol he received the TEAM-WORK-AWARD 2007 for the film and music performance LANDED TAKES & SOUND TIMES at the Festival for Expanded Media Stuttgart.
Visiting Lecturer at University of Wisconsin, Akademie für Kommunikation Freiburg, University of Wisconsin Madison, Akademie Schloss Rotenfels, Hochschule Bildender Künste Braunschweig or University of Illinois at Chicago and others. www.telemach-wiesinger.de