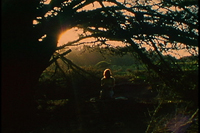 Vivid Dreams
Jim Granato, in person - 2008, 4'30, Super8, San Francisco
After years of yearning to go to Africa, Joan's three-month stint as a Peace Corps volunteer turns sour on Christmas Eve when she is 'psychevac'd' back to the states and admitted to Georgetown Hospital mental ward. The drug required by the Peace Corps to be taken as a protection against malaria is said to cause only vivid dreams, but no one mentions the other side effects of psychotic tendencies, including suicide and murder.
Jim Granato has directed and produced several short films and music videos. He has worked on many independent feature, documentary and television productions. Some of these recent films include: "The Real Dirt on Farmer John" (2005), "Audience of One" (2007), "Revolution Summer" (2007) and "Some Assembly Required" (2008).
He is currently making his first feature documentary about a musician balancing his career with his band whose popularity is soaring while dealing with his failing kidney.